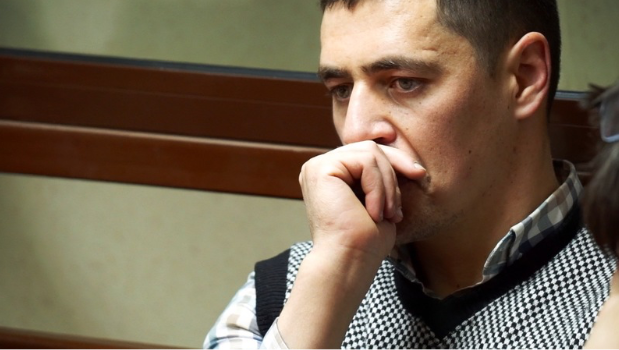 Crimean citizen journalist Amet Suleymanov was transferred to the Russian Vladimir Central prison despite serious health issues
According to the Crimean Solidarity public association, the transfer of its journalist, Amet Suleymanov, to the largest Russian maximum-security prison is over. It took Russian authorities one month (September 27 – October 27, 2023) to bring Suleymanov almost 2000 km away from home to serve his 12 year sentence. We've gathered information about who Amet Suleymanov is and why human rights defenders call for his immediate release.
As Human Rights House Crimea (HRH Crimea) member organisations Crimean Human Rights Group and Human Rights Centre ZMINA previously reported, Amet Suleymanov is a citizen journalist of the Crimean Solidarity public association. Following the illegal annexation of Crimea by the Russian Federation, he covered searches and arrests of Crimean Tatars, for which he was detained twice by the Crimean de-facto authorities in 2017 and 2019. In recent years, Suleymanov had to limit his journalistic activity due to health problems.
Suleymanov family. Photo from the family archive, taken during Suleymanov's house arrest, published by Human Rights Centre Zmina.
In March 2020, Russian security forces arrested Suleymanov and three other Crimean Tatars on what human rights defenders called trumped-up charges for participating in the activities of a Hizb ut-Tahrir, a political organisation, recognised as a terrorist organisation in the Russian Federation. According to Crimean Solidarity, Suleymanov was the only case defendant kept on house arrest due to his health condition. He suffers from health conditions, including arterial and mitral insufficiencies, requires heart valve replacement surgery and needs constant medical attention.
However, in October 2021, the Southern District Military Court (Rostov-on-Don, Russia) sentenced Suleymanov to 12 years in the maximum-security regime penal colony. Suleymanov's lawyers filed an appeal, but on February 9, 2023, the Military Court of Appeal (Vlasikha town, Russia) upheld the first instance decision. 
According to the human rights lawyer Serghiy Zayets, who represents Suleymanov at the UN Committee Against Torture (CAT), on February 22, 2023, the UN CAT issued an interim decision in this case and has requested Russia to abstain from enforcing the prison sentence against the complainant, conduct his comprehensive examination in a specialised medical facility, and to ensure that he undergoes a cardiologic treatment/surgery following the results of the examination.
Despite Suleymanov's critical health condition and the UN CAT interim decision, in April 2023, the Russian security forces placed Suleymanov at the pre-trial detention centre in Simferopol, Crimea, which Suleymanov's wife and human rights defenders called a death sentence.
A collage with photos of political prisoners from Crimea, published by Human Rights Centre ZMINA. Left to right: Amet Suleymanov, Dzhemil Gafarov, Iryna Danylovych, Kostiantyn Shyring, and Azamat Eyupov. 
Following his detention, several human rights organisations released a statement calling for Suleymanov's immediate release, emphasising that transferring Amet Suleymanov to a pre-trial detention centre is particularly alarming against the background of the systematic failure to provide proper medical care to other Crimean political prisoners as a result of which two political prisoners, Kostiantyn Shyring and Dzhemil Hafarov, died in prison in February 2023. Suleymanov is one of 21 Crimean political prisoners of the Hafarov-Shyring list, recognised to be in need of urgent medical help.
However, on August 27, 2023, despite the appeal of Suleymanov's defence being under review, the Russian authorities started his transfer from the pre-trial detention centre in Crimean Simferopol to the largest Russian maximum-security prison in Vladimir. Lilia Hemedzhy, Suleymanov's lawyer, previously shared the details of the process and conditions of such transfers, as well as the bad reputation of Vladimir prison.
Amet Suleymanov's photos published by the Human Rights Centre ZMINA.
Following the address of Human Rights Centre ZMINA, PACE General Rapporteurs on Human Rights Defenders and Whistleblowers, and on Political Prisoners urged the Russian authorities to reverse the decision to transfer Suleymanov from house arrest to a prison, ensuring his access to adequate medical supplies and attention, and called on the Russian government to secure Suleymanov's immediate release.
On September 27, 2023, the court indefinitely postponed the consideration of the defence's request to release Suleymanov from serving his sentence due to poor health. The same day, exactly one month after the transfer started, Suleymanov was brought to the Vladimir Central prison and placed in quarantine. This information became public on October 11, after his wife shared with Crimean Solidarity to have received his letter. For over a month, Suleymanov's location or medical conditions remained unknown to his family. 
According to the Crimean Human Rights Group, there are currently at least 204 verified political prisoners related to Crimea, including 154 Crimean human rights activists, journalists and regular citizens, and 50 verified cases of Ukrainian citizens kidnaped and transferred by Russia from the occupied territories of Kherson and Zaporizhia to Crimea or to Crimea and later to Russian territory. Most of them are Crimean Tatars.
Earlier this month:
Crimean Human Rights Group named those involved in the persecution and pressure on independent journalists in Crimea.
HRH Crimea joined the information campaign of the Human Rights Centre ZMINA to raise awareness about Crimean political prisoners in need of urgent medical help.