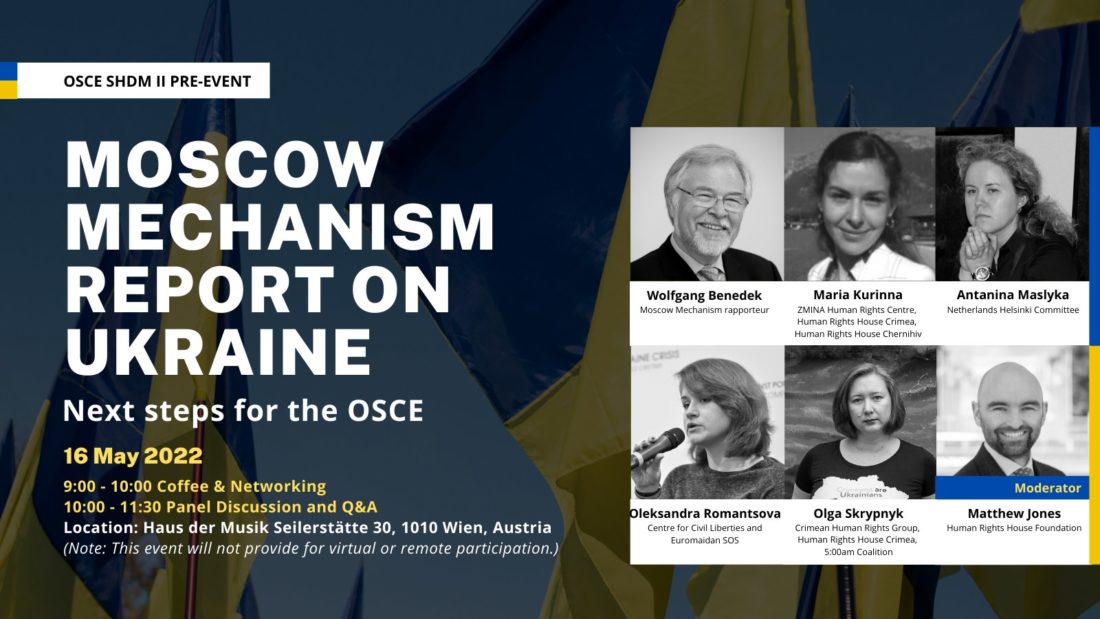 Moscow Mechanism report on Ukraine: Next steps for the OSCE
On 16 May 2022, Human Rights House Foundation and several Ukrainian and international partners will host "Moscow Mechanism report on Ukraine: Next steps for the OSCE," a pre-event for OSCE delegations and stakeholders ahead of the Supplementary Human Dimension Meeting.
The event will be led by:
Wolfgang Benedek Moscow Mechanism rapporteur
Maria Kurinna ZMINA Human Rights Centre, member of the Human Rights House Crimea and Educational Human Rights House Chernihiv
Antanina Maslyka Netherlands Helsinki Committee
Oleksandra Romantsova Centre for Civil Liberties and Euromaidan SOS
Olga Skrypnyk Crimean Human Rights Group, member of Human Rights House Crimea, and 5:00am Coalition
Moderated by Matthew Jones Human Rights House Foundation
It wil be on 16 May 2022.
The schedule is:
9:00 – 10:00 Coffee & Networking
10:00 – 11:30 Panel Discussion and Q&A
Location: Haus der Musik Seilerstätte 30, 1010 Wien, Austria
This event will not provide for virtual or remote participation.
Please fill out the form of registration by 13 May 23:59CEST. The organisers will review registration information and confirm registration within 24 hours.
Participation is free of charge; however, travel and accommodation costs are borne by participants.
Organised by
Civic Solidarity Platform
CivilM Plus Platform
DRA e.V.
Human Rights House Foundation
Netherlands Helsinki Committee
Supported by
Centre for Civic Education "Almenda"
Center for Civil Liberties
Crimean Human Rights Group
Educational Human Rights House Chernihiv
Human Rights House Crimea
Norwegian Helsinki Committee
Regional Center for Human Rights
Zmina Human Rights Centre